"

You guys reminded me of Talking Heads AND Iron Maiden."
— Dude in Powell River BC
"

You guys were good. I've certainly seen a lot worse."
— Dude in Duncan BC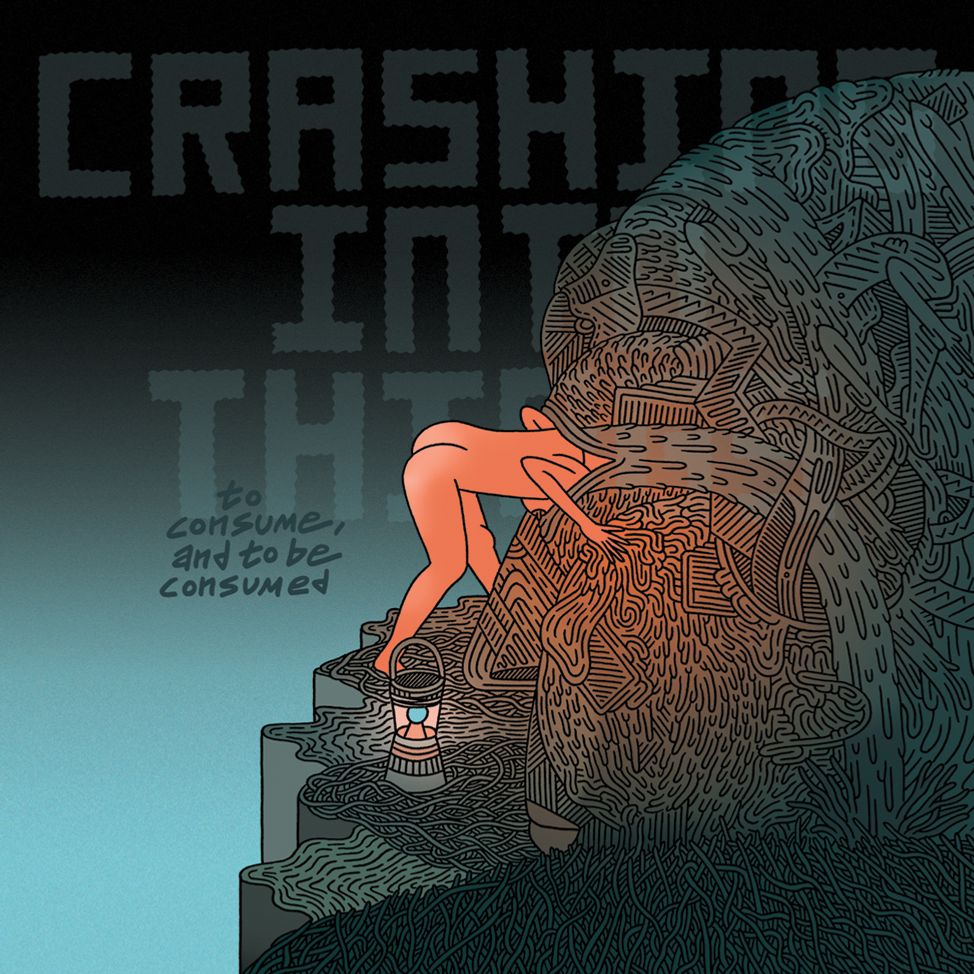 RIDE THE TEMPO REVIEW OF "TO CONSUME, AND TO BE CONSUMED"
In a world of music that tends to insult our intelligence it's refreshing to hear a band that actually challenges us intellectually. Crashing Into Things prove to be highly creative in pushing genre boundaries musically, while at the same time delivering insightful and thought-provoking lyrics.
The Victoria, BC band combines elements of both New York post-punk and British art rock in their high-brow, anti-commercial approach. The twin guitars of Adrian Southward and Kalev Mihkel Kaup alternatively battle and complement each other, but they are never doing the same thing. In the meantime, Mike Isacson's bass tends to dominate, creating intriguing platforms with his unconventional rhythms. -Mark Anthony Brennan
BIO
Crashing Into Things got started when old friends Mike Isacson (bass, vocals) and Adrian Southward (guitar, drums, electronics) ran into each other at a Battles show in Victoria BC in 2011.  They started practicing in The Chicken Chapel, an old shack in the woods of Pender Island BC.  High Arctic's Kalev Mihkel Kaup joined on guitar in early 2013.  Their sel-titled first album was released in Feb 2014 on their own Querc Records label.  Videos were produced for "She Said I'm Gonna Kill You" and "Pinball Man."
In late 2013 David Houghton, a veteran of London England's punk and post-punk scene, joined on drums.  They recorded the follow-up album "To Consume, and To Be Consumed" with the Godfather of Victoria punk, Scott Henderson, releasing it on Querc in Dec 2015.  The title track features a duet between Isacson and his partner Tara Landry (Elevator To Hell).  The album charted on university radio across Canada, and was listed at #17 on Baffled Octopi's top Canadian albums of 2016.  Videos were released for the songs "I Saw It Coming," "Rogue Element," "Highly Polished People" and "Captains of Industry."
In Oct. 2016 the band released the single "Zombies!" with an accompanying video.  Josh Harrison joined on guitar in April 2017.  In Feb 2018 the band released "Cosmic Joke" as a single and video.  In Aug 2018 the band played 4 shows with Canadian punk legends DOA.
The EP "Smaller Than Death" was released in Feb 2019, again recorded with Henderson.  It received positive reviews from Razorcake ("...some seriously excellent weirdo shit... Very cheeky lyrics and a Mike Patton-level vocal range") and Irregular Dreams ("...a delight for anyone who likes intelligent garage rock with a psych edge").  Videos have been released for "Larger Than Life," "Chasing Things Is Easy" and "The World."